Update/Disclaimer 1/31/2013: This is my first blog post ever. It happened in 2007. I was young and obviously very exci

ted.
MMM.... YEAH THE BACKSTREET BOYS ARE COMING OUT WITH ANOTHER ALBUM! THIS MAKES ME GIDDY EVEN TO THINK ABOUT. AND I HAVE TO SAY THIS EVEN THOUGH I SAY IT ALL THE TIME AND ITS PROBABLY ANNOYING... HAS ANYONE SEEN HOW GOOD NICK CARTER IS LOOKING THESE DAYS!?!!? BETTER THAN EVER BEFORE! BETTER THAN ANYONE IN ANY BOY BAND EVER! SO THE QUESTION ON MY MIND IS... IS THE NEW ALBUM GOOD? BECAUSE I MOSTLY LISTEN TO THEIR EARLY ALBUMS...THE SELF TITLED "BACKSTREET BOYS", "MILLENNIUM" AND A FEW SONGS FROM "BLACK AND BLUE." I DO NOT, HOWEVER, OWN THE ONE THAT WAS RELEASED WHILE I WAS A JUNIOR IN HIKE STHCOOL CALLED "INCOMPLETE" AND I WANT TO GET THOSE. PRRRONTO. I MEAN THEY REALLY DON'T HAVE AAANNY BAD SONGS THAT I KNOW OF!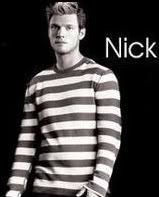 MANALIVE! WHOEVER'S IDEA THE "BOY BAND" WAS DESERVES A BUTTON OR SOMETHING. 'CAUSE I MEAN... THERE IS ALSO 'NSYNC... WHO SADLY BROKE UP AND PURSUED SOLO CAREERS IN CASE YOU LIVE IN A CELLAR SOMEWHERE AND NEVER SEE DAYLIGHT, JUSTIN TIMBERLAKE IS VERY SUCCESSFUL, THE REST NOT SO MUCH! PO' BOYS. I THOUGHT THAT MAYBE J.C. HAD A SHOT AT LEAST, BUT HIS ONE SONG THAT I HAVE HEARD IS SUPER BAD! AND NOT IN A GOOD WAY.